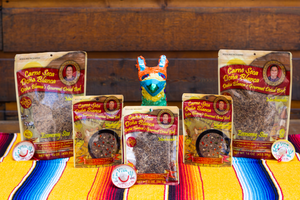 Over 100 years of tradition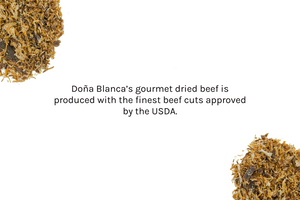 Testimonials
I have been trying out different brands of Machaca to see which I preferred and Carne Seca Doña Blanca is the best so far. The texture is nice with a trace of moisture so you can snack out of the bag if you wish. It works flawlessly in my recipes and is a great resource for those times when it's the end-of-the-money-but-not-the-month. Toss it in with a can of beans or inexpensive soup. Pack it when you are traveling.
Great product and I'll be buying it again!

D. Hawk
Amazing quality the meat is really finely shredded and just has a great overall quality. You can really taste the difference.

Joshua
I have tried several brands to find Machaca that resembles the taste of the ones from north of Mexico and this is the closest you'll find, just beef and salt, no other thing. Others brands have garlic, pepper, sugar or some other condiment but that kills the flavor, this one keeps it simple and succeeds by doing that. Give it a try next time you buy Machaca.

Felipe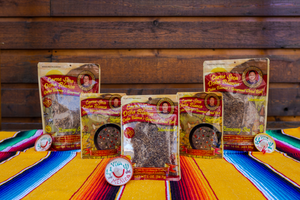 Located in Laredo, TX 216 N. Zapata Hwy. Suite 15 Laredo, Tx. 956-238-4747
We strive to provide our customers with the best quality by only using USDA approved meats and Kosher Sea salt giving our product the best qualities such as:

​​No Carbohydrate
Sugar free
High protein 
Kosher Sea Salt
​Gluten Free
Keto Friendly
Paleo-Friendly
Atkins-Friendly
Proudly made in the USA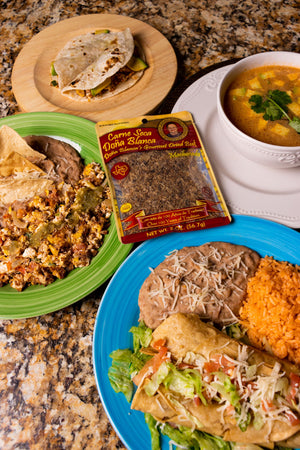 Doña Blanca

​I remember waking up in the mornings, to the aroma of freshly brewed coffee, and my mother preparing machacado with home made flour tortillas, as I was getting ready for school. She always made sure we were well fed to confront the day.
My mother was widowed at the age of 35 with 8 children 5 daughters and 3 sons. She opened a small grocery store where she worked from dawn to dusk in order to ensure we all obtained an education.
 
My mother, Doña Blanca, was and still is a hard working woman;
in the town where I grew up she is known as an example of perseverance, honesty, and class. I remember when she expressed life was hard being a widow in Mexico with no assistance and raising a family of eight my mother would say; " Rain, thunder, or lighting we will come out ahead," Today those words continue helping me in life.
 
At the age of nine I no longer had my father; therefore, my Uncle Ramiro, taught me how to make Carne Seca. This placed in me, the desire to one day have my own company making Carne Seca / Gourmet dried beef. It has been for me a year of schooling, but I finally made it thanks to God, great friends. I want to honor my mother for her never ending dedication and her altruistic spirit,
I dedicate this business to her;  Carne Seca Doña Blanca. In your 75, years may Jesus Christ continue blessing you Mother.
 
 
Your son.
Eduardo Mercado
Proud Partner of La Michoacana and H-E-B
We are proud to be a Michoacana and H-E-B supplier! You can find our 2 and 4 ounce packages in H-E-B's and Michoacana meat markets around Texas.


Get 10% off your order today
Get 10% off your order today when you subscribe to our newsletter!
Plus be the first to know about recipes, product releases, sales, and so much more.